Welcome to Healing Soles Ashiatsu
Ashiatsu Massage Stoneham, MA
Ashi-what? Pronounced, A-shi-at-su, Ashiatsu is a deep tissue, painless massage done via bare feet rather than hands. This kind of massage therapy is the deepest most luxurious massage on the planet!
Kendra is an Advanced Ashiatsu Therapist of 16 years. She's a graduate of "South West Institute of Healing Arts" in Tempe, AZ and trained by the leading source at "South West Academy of Ashiatsu Massage and Bodywork" in Tucson, AZ.
Kendra's extensive background in Massage Therapy varies from Deep Tissue & Sports Massage, while specializing in Ashiatsu. Kendra's clientele includes Athletes, pro to amateur Bodybuilders, former NFL, to the everyday person.
Escape with Ashiatsu
Escape with Ashiatsu massage it is as relaxing as a Swedish massage however it is the deepest deep tissue with out any of discomfort of a deep tissue pointy poky elbows or fingers ,the treatment is extremely relaxing & therapeutic.
You will experience longer lasting results of being pain & stress free!! Results of ashi last longer than traditional massage!
Come experience the deepest most luxurious massage on the planet at healing soles!!
15% OFF for First Responders
This massage is as relaxing as a Swedish massage, but with painless, deep, flowing strokes that lengthen muscles, break up adhesions, and realigns the body for noticeable, lasting results. In addition to all of this, each of my sessions includes a detailed client assessment and goal setting, in order to get the most out of each visit.
Please be well hydrated prior to your Ashiatsu.
It is recommended to not lift heavy 24 hours after your Ashiatsu.
Customize your Ashiatsu, My barefoot massage is a unique blend of ancient and modern massage techniques that provide a consistent, deep pressure over broad areas of the body in such a way that is not painful, This modality allows me to work through more muscle tissue and get my clients faster results with less pain than traditional deep tissue massage.  Essential Oils  Aromatherapy offers not only muscle relaxation but great for muscle spasms and pain relief, helps reduce inflammation, helps regulate male or female hormones, offers immune system stimulation, improves energy, and sleep as well.
Benefits of Ashiatsu vs Deep Tissue
The feet are more comfortable than pointy elbows and thumbs (it's not painful).
The broad surface of the feet enable the client to relax into the strokes. It's known to induce deep relaxation quickly.
Gravity enables the pressure to be deeper than with hands-on.
Two Feet Ashiatsu is the deepest massage available.
Ashiatsu increases circulation quickly.
It's both luxurious and yet therapeutic at the same time.
Ashiatsu is especially beneficial as it warms up the larger muscle groups.
Ashiatsu relieves tight muscles and stress.
Deep pressure stimulates the body's self-healing capabilities.
Less soreness typically results than with deep neuromuscular work.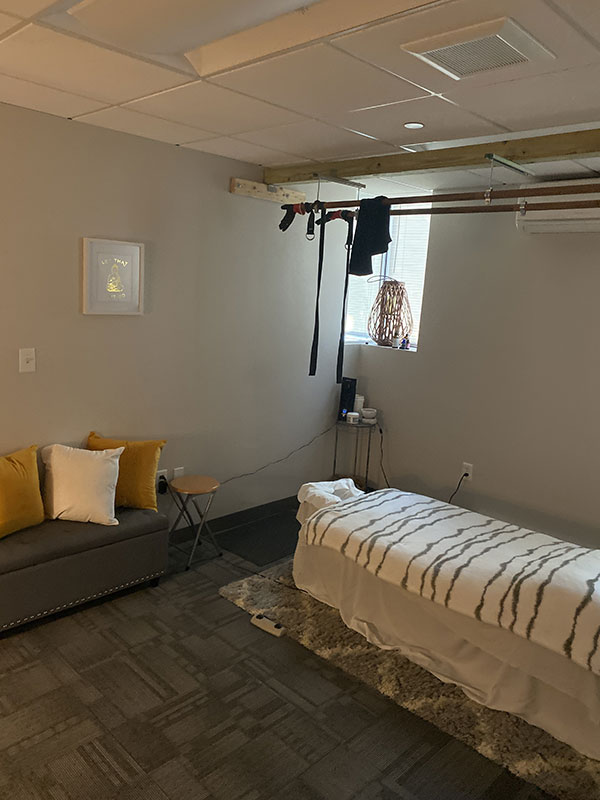 New client rate $99.00 one Full hour
One 60 Minute Massage $115.00
One 75 minute Massage $139.00
One 90 minute Massage $160.00
Every Massage is customized. You can also select your favorite aromatherapy to enhance your massage!
Please, arrive 15 minutes prior to appointment
Any online promotions may be purchased directly through Healing Soles!
Escape with Ashiatsu Massage
Ashiatsu massage is somewhat like Swedish Massage – only much deeper and more penetrating than that performed by the hands.